Flat or Pillow Monuments

Pillow Monuments have a slight rise from front to back to make the writing more easily read. Much like tilting up a book to read the words better, the gentle slope (generally 2 to 3 inches from front to back) not only increases visibility of the lettering on it but also helps repel rain and snow. The two most common are called an "8 to 5", or "6 to 4". The first number represents the height of the back of the marker and the second number the height of the front of the marker.

Flat monuments (with both back and front heights the same) are now used mainly for Military. Previously more common, the trend gave way to a Pillow design (as above) to help repel water, snow and ice.
Below are some examples of pillow monuments.

RIGHT: 12" x 30" Polished on 3 sides in black granite with grey base and grey foundation and 2 "cameo" vases. Suitable for 2 people, the family name has been placed on the front and back.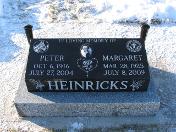 RIGHT: A 12" x 24" - Polished on 1 side (top) in "red" granite for one individual. Lettering is "raised". The marker sits on a granite foundation.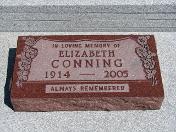 Click on any image below to open a photo viewer with larger images.