Upright Markers, Hearts and Unique Shapes
Upright monuments offer the greatest print area of any of the monument designs. Their stature offers greater visibility of the face area making this type of monument very popular. Generally, both the front and back sides are polished. The top edge, along with the side edges may be either polished or left with a natural, chiseled finish.

The majority of upright monuments are an equal depth top to bottom however they are also available with a slightly larger profile on the bottom edge compared to the top edge.
Uprights come in a variety of shapes with the most common being a "Serp" top. Several other shapes are available as well such as heart shape, double heart, "wing" and unique shapes. "Wing" shapes are crafted to compliment another monument placed beside the first although they may also be used as a single monument.
Below are several examples of all the above.

18" x 36" "Serp" Top in Black. The family name has been placed on the back with wheat, roses and a lake silouette.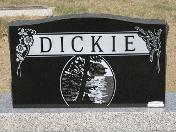 24" x 30" Double Heart for a couple.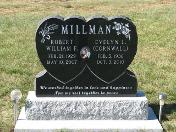 Click any image below to open a photo viewer with larger images