Infant and Children's Monuments

RIGHT: 24" x 24" Heart shaped monument for an infant. Also shown are a cameo vase and polished base. The image was done using laser etch.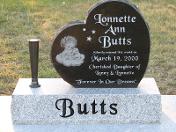 RIGHT: 12" x 24" Polished top, pillow monument with sandblasted images

Click on any image below to open a photo viewer with larger images.